An Aside: To My Son
Some thoughts on your graduation.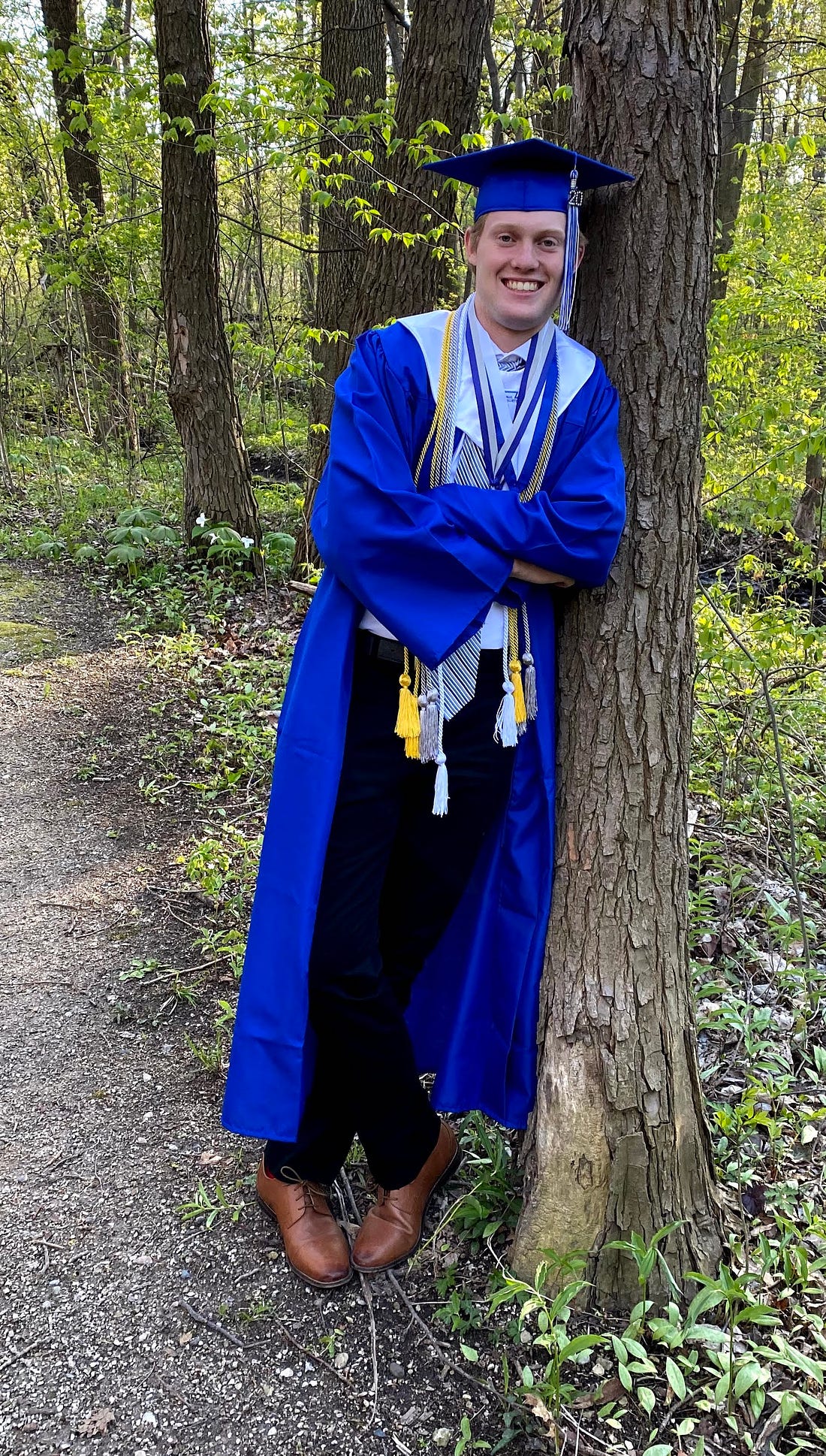 This week we drove to the parking lot of your school and picked up your cap and gown. We stayed in our car and masked teachers and support staff took your books and gave you your graduation stuff. It was surreal.
In those moments I saw people who knew you. Every person we interacted with were genuinely happy to see you. "Ethan!" was the exclamation as we pulled to each station along the way. I saw you smile that big smile of yours for the first time in a long time. As a father, seeing that you have impacted others fills me with joy and pride.
Driving away from the parking lot I also saw the hint of sorrow wash over you. This was supposed to be a day that you would be celebrating with your friends. You were supposed to have a clap out. You were supposed to be able to say good bye. You were supposed to have closure. You were probably supposed to head to a baseball game and compete with your brothers afterward. Yet, on this day, you got none of those things. Simply a few minutes in a parking lot with a few teachers in masks and your dad.
I wish you had those memories. You've earned them.
Last night you put on your cap, gown, tassels, and medals. Four years of hard work, dedication, and fun represented by some things hanging around your neck. I wish I could describe to you the pride and joy your mom and I felt seeing you standing there. Some day I know you will when you are with your own wife and watching your child have the same moment.
As I sit here this morning writing this, the tears come and go. They well up and dissipate after a few deep breaths. In a few days you will be heading to Indiana to begin the next phase of your journey. The dream you've had since you were six years old is still within reach. Go grab it. Take hold of all that is before you. Ignore the voices who laugh at you and mock your dream.
You son, are one of the special ones. You have "it."
You have become a man that I'm grateful to call my friend.
As you leave, I think the times that I'm going to miss most are those times on ballfields, just you and me. I remember the first time you hit a ball in BP over the fence at Lincoln. We celebrated and laughed like we had won the World Series. Then ball after ball kept going over. It sure made the ball pick tough. Those times up at The Cage tucked away in a hitting tunnel listening to music and talking about baseball and life. These were sweet times and I'm so thankful we had them.
Go now, son, take on this world.
You're ready.
Don't look back.
Don't hesitate.
Now is your time.
We love you.
I love you.
I am proud of you.
Love,
Dad