Knee Jerk Devotional - September 21, 2020
Luke 3:1-14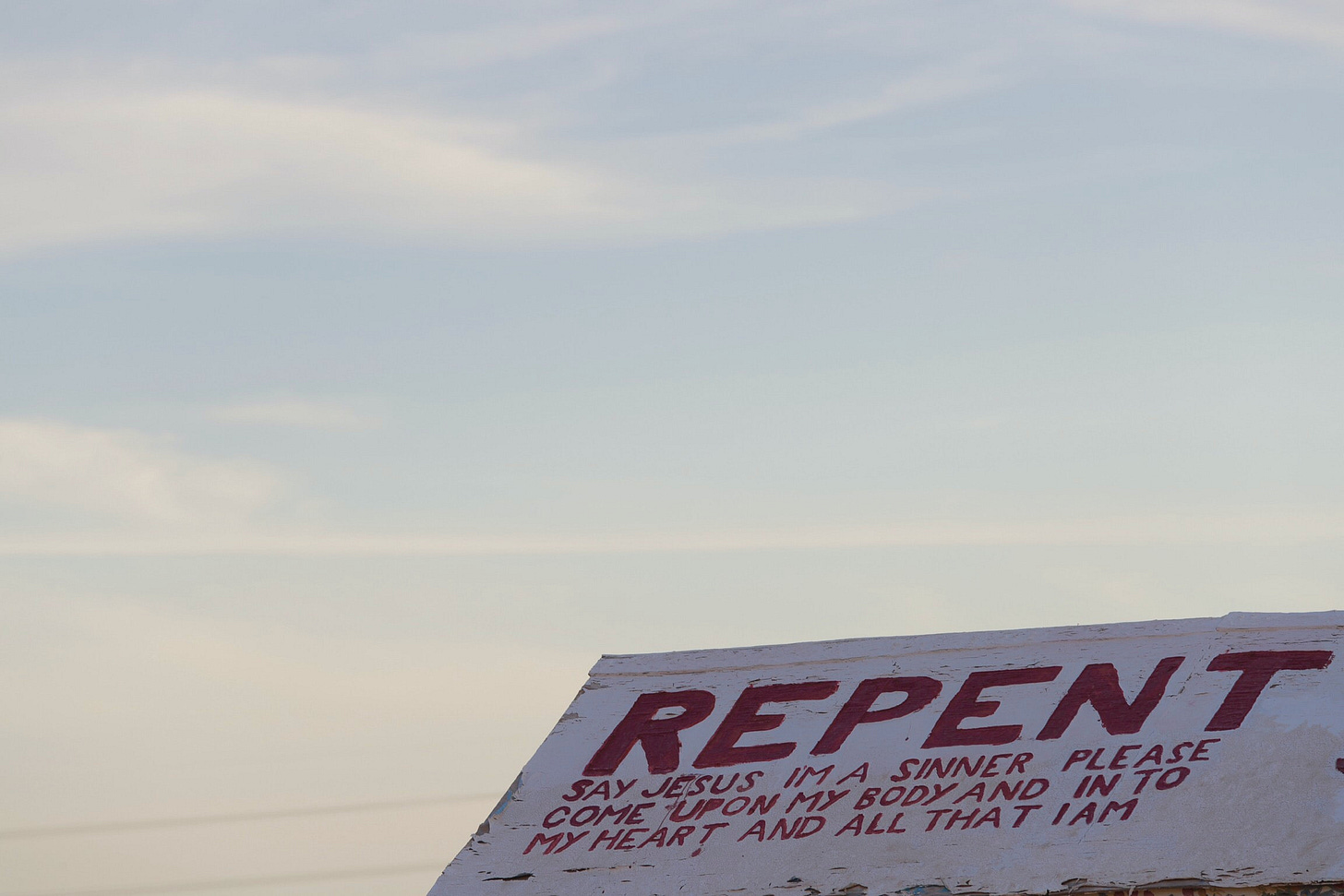 Photo by Joel Muniz on Unsplash
---
Passage:
In the fifteenth year of the reign of Tiberius Caesar—when Pontius Pilate was governor of Judea, Herod tetrarch of Galilee, his brother Philip tetrarch of Iturea and Traconitis, and Lysanias tetrarch of Abilene— during the high-priesthood of Annas and Caiaphas, the word of God came to John son of Zechariah in the wilderness. He went into all the country around the Jordan, preaching a baptism of repentance for the forgiveness of sins. As it is written in the book of the words of Isaiah the prophet:

"A voice of one calling in the wilderness, 'Prepare the way for the Lord, make straight paths for him. Every valley shall be filled in, every mountain and hill made low. The crooked roads shall become straight, the rough ways smooth. And all people will see God's salvation.'"

John said to the crowds coming out to be baptized by him, "You brood of vipers! Who warned you to flee from the coming wrath? Produce fruit in keeping with repentance. And do not begin to say to yourselves, 'We have Abraham as our father.' For I tell you that out of these stones God can raise up children for Abraham. The ax is already at the root of the trees, and every tree that does not produce good fruit will be cut down and thrown into the fire."

"What should we do then?" the crowd asked. John answered, "Anyone who has two shirts should share with the one who has none, and anyone who has food should do the same."

Even tax collectors came to be baptized. "Teacher," they asked, "what should we do?"

"Don't collect any more than you are required to," he told them. Then some soldiers asked him, "And what should we do?"

He replied, "Don't extort money and don't accuse people falsely —be content with your pay."
There's a lot in this little passage. It's chock full of deep heart issues and practical calls to justice in various avenues of life. Yet, what grabbed my attention this morning (remember, these are knee jerk devotionals) is John's call to "Produce fruit in keeping with repentance."
I have been teaching on Sundays from the Gospel of John about Jesus' "I Am" statements. This has been great for me as it's been a remarkable reminder of who Jesus is and what he is calling us to do as his followers.
(Oh, hey, this John in Luke and the John that wrote the Gospel of John are two different Johns.)
Last night we put the wraps on the series and discussed John 15, "I am the true vine." In this passage Jesus talks a lot about fruit and bearing fruit and how we need to stay connected to him to bear that fruit. The key word there is "remain." It's repeated over and over and over and over again. It just keeps coming. "
Remain.
Remain.
Remain.
Remain.
Remain.
Remain.
Remain.
Remain.
Remain.
Remain.
Ten times, in the one passage.
Here, John the Baptist says, "Produce fruit in keeping with repentance." I think the idea of "keeping with repentance," is very similar to "remain." Why? Because we are given to wandering around and wandering away on our own. We tend go our own way and chase after idols that are less than God. When we do, we stop producing fruit.
The clearest definition of fruit that I can find in the Bible is from Paul's letter to the Galatians, "But the fruit of the Spirit is love, joy, peace, patience, kindness, goodness, faithfulness, gentleness and self-control. Against such things there is no law. (Galatians 5:22)"
When we see these things waning in us we can be sure that we are in need to repent.
What does repent mean? The Greek word is "metanoia" and in the context of the Bible it means, "Change of mind, repentance, the state of changing any or all of the elements composing one's life: attitude, thoughts, and behaviors concerning the demands of God for right living; note that this state can refer to the foundational salvation event in Christ, or to on-going repentance in the Christian life."
To practice metanoia is to take action to change and align ourselves more closely to the ways of God. The practice of metanoia is the practice of becoming more loving of God, self, neighbor, and enemy. When we are moving in that direction then we are going to experience the production of fruit that is in keep with repentance.
We will experience...
Love,
Joy,
Peace,
Patience,
Kindness,
Goodness,
Faithfulness,
Gentleness and
Self-control.
If I am not experiencing these things in my life then I'm not practicing metanoia but I'm living a self-oriented life and and moved from a God-oriented life.