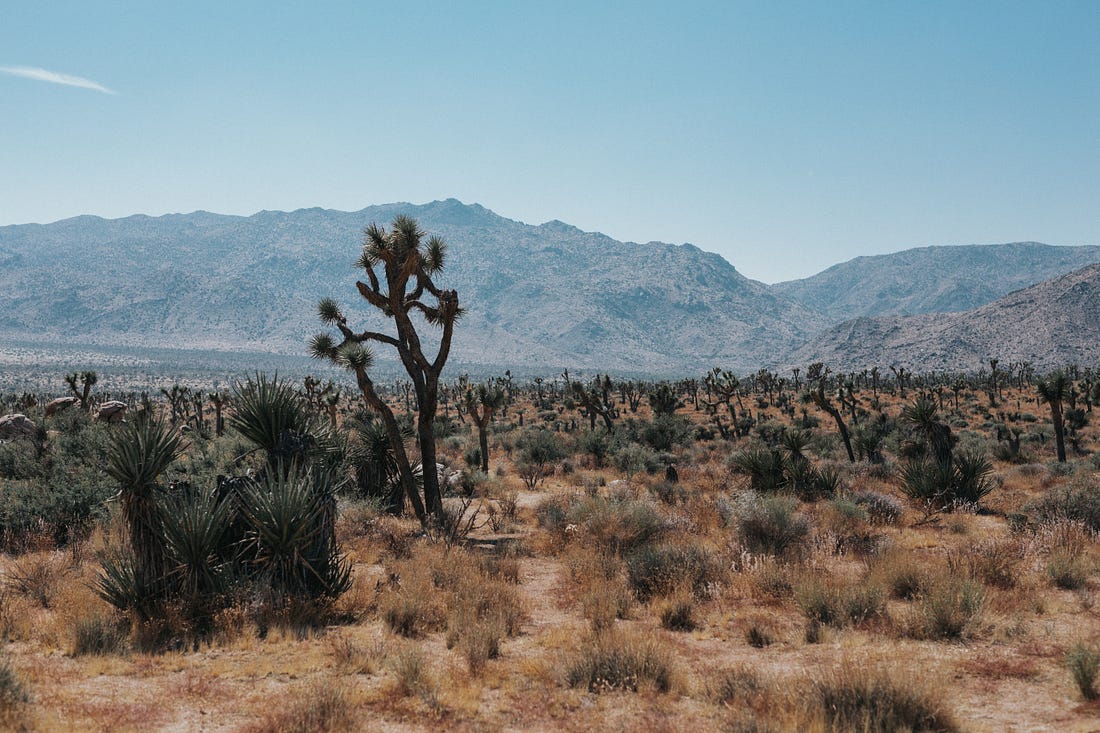 Photo by Tyler Nix on Unsplash
---
Passage:
Jesus, full of the Holy Spirit, left the Jordan and was led by the Spirit into the wilderness, where for forty days he was tempted by the devil. He ate nothing during those days, and at the end of them he was hungry.

The devil said to him, "If you are the Son of God, tell this stone to become bread."

Jesus answered, "It is written: 'Man shall not live on bread alone.'"

The devil led him up to a high place and showed him in an instant all the kingdoms of the world. And he said to him, "I will give you all their authority and splendor; it has been given to me, and I can give it to anyone I want to. If you worship me, it will all be yours."
Jesus answered, "It is written: 'Worship the Lord your God and serve him only.'"

The devil led him to Jerusalem and had him stand on the highest point of the temple. "If you are the Son of God," he said, "throw yourself down from here. For it is written:

"'He will command his angels concerning you

to guard you carefully;
they will lift you up in their hands,

so that you will not strike your foot against a stone.'"

Jesus answered, "It is said: 'Do not put the Lord your God to the test.'"

When the devil had finished all this tempting, he left him until an opportune time.
This is one of those famous passages. It's one that just about everyone has read or says they've read, religious and non-religious people alike. Why? I mean there's tons of stuff in there about power and identity and all kinds of other stuff.
But, as I read it this morning, and maybe because I have James 1:1-8 rolling around in my head I'm particularly struck by two things.
First, Jesus is "full of the Holy Spirit." Usually I'm not accused of such things, usually when someone says "Dan's full of it," they mean something else entirely. Yet, Jesus was full of the Spirit. There was something that happened there in the Jordan that impacted him and had him experience some qualitative change. It was following this episode in the wilderness that he began his public ministry.
What could it have been?
Just before this Luke's gospel tells us that after he was baptized there was a voice from heaven that said, "You are my son, whom I love, with you I am well pleased."
Those kinds of words provide such validation and confidence. Could you imagine hearing those words from your dad? How would that have changed or impacted you? I think, there's something about being a young man and hearing these words from your father. I imagine being a young woman and hearing these words from your mother would be just as impactful.
Second, here's Jesus full of the Spirit and the Spirit leads him into the wilderness. During those forty days he was tempted. We often think that he was only tempted at the end. But read that bit about going into the wilderness again, for forty days he was tempted or tested by the devil. He ate nothing for those forty days. So perhaps the greatest understatement in the Bible occurs in verse 2, "At the end of them he was hungry."
Thanks Captain Obvious.
But here's the thing. Jesus had just had this amazing experience at his baptism. He was living in the glow of being affirmed by his Father and was full of the Spirit. So what happens next? He's plunged into a time of trial in the wilderness. Can you say relatable?
Life for Jesus was not easy. If anyone had their life together it was Jesus. He was in perfect unity with the Father and the Spirit. By the way some of the famous preachers in our time talk, one would think that he would have nothing but puppies and roses. That couldn't be further from the truth. At the height of his religious ecstasy he was plunged into testing and pain.
I think this is because what he was called to do was not easy. It was hard. He needed to have his faith tested and tried so that he could stand strong in the coming years.
God prunes those he loves Jesus says near the end of his life. You have to wonder if that was an "aha" moment for him. As if it all made sense.
All the hardship,
all the pain,
all the testing.
It finally all made sense because he knew that it had made him strong.
At the height of my spiritual ecstasy, in the summer of 1995, my Mimi died tragically in a car accident. Looking back I see that during that time my faith was shattered and rebuilt. God taught me in that, that all of this was about grace. It wasn't about me or my faith in him.
But, it was about his grace
and his love
and his mercy
and his care.

It's hard to believe and maybe even harder to accept but those times in the wilderness are the times where we learn the most. Those are the times that we become strong.
When we get to the other side we are ready to
love well,
to love ourselves,
to love our neighbors, and
to love our enemies.
Apart from those times in the wilderness I'm not sure that we would ever
get past our
false love of self
and stuff
and circumstance.