Knee Jerk Devotional: October 30, 2020
Luke 12:13-34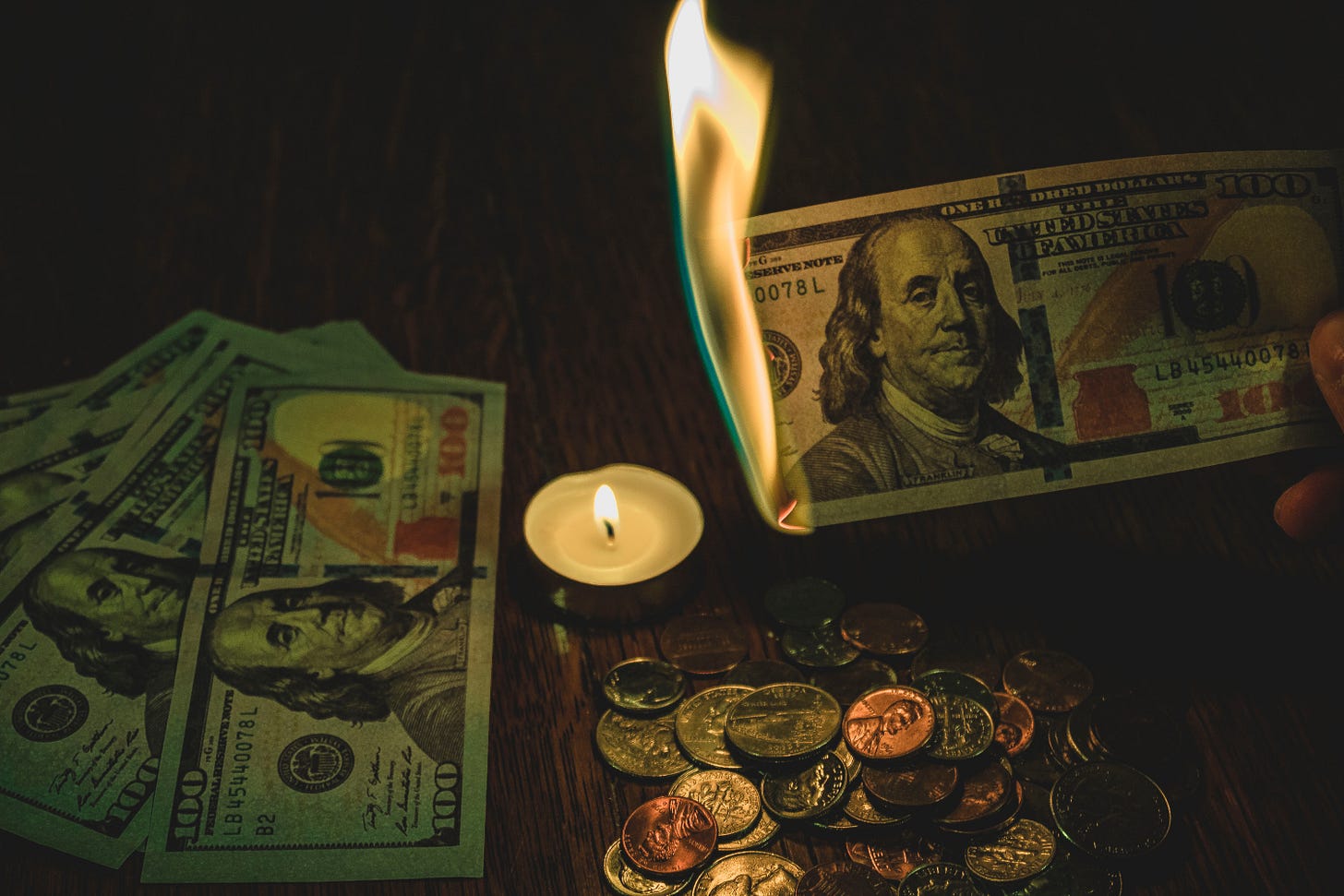 Photo by Gabriel Meinert on Unsplash
---
Passage:
Someone in the crowd said to him, "Teacher, tell my brother to divide the inheritance with me."

Jesus replied, "Man, who appointed me a judge or an arbiter between you?" Then he said to them, "Watch out! Be on your guard against all kinds of greed; life does not consist in an abundance of possessions."

And he told them this parable: "The ground of a certain rich man yielded an abundant harvest. He thought to himself, 'What shall I do? I have no place to store my crops.'

"Then he said, 'This is what I'll do. I will tear down my barns and build bigger ones, and there I will store my surplus grain. And I'll say to myself, "You have plenty of grain laid up for many years. Take life easy; eat, drink and be merry."'

"But God said to him, 'You fool! This very night your life will be demanded from you. Then who will get what you have prepared for yourself?'

"This is how it will be with whoever stores up things for themselves but is not rich toward God."

Then Jesus said to his disciples: "Therefore I tell you, do not worry about your life, what you will eat; or about your body, what you will wear. For life is more than food, and the body more than clothes. Consider the ravens: They do not sow or reap, they have no storeroom or barn; yet God feeds them. And how much more valuable you are than birds! Who of you by worrying can add a single hour to your life? Since you cannot do this very little thing, why do you worry about the rest?

"Consider how the wild flowers grow. They do not labor or spin. Yet I tell you, not even Solomon in all his splendor was dressed like one of these. If that is how God clothes the grass of the field, which is here today, and tomorrow is thrown into the fire, how much more will he clothe you—you of little faith! And do not set your heart on what you will eat or drink; do not worry about it. For the pagan world runs after all such things, and your Father knows that you need them. But seek his kingdom, and these things will be given to you as well.

"Do not be afraid, little flock, for your Father has been pleased to give you the kingdom. Sell your possessions and give to the poor. Provide purses for yourselves that will not wear out, a treasure in heaven that will never fail, where no thief comes near and no moth destroys. For where your treasure is, there your heart will be also.
Greed or worry?
Worry or greed?
Chicken or egg?
Egg or chicken?
Worry and greed go hand in hand.
Do you get greedy because you worry or do you worry because you're greedy?
If you get that untangled let me know.
I think often I find myself becoming greedy because I worry. Perhaps you're like me?
We worry we won't have enough…money, food, power, whatever…
The worry drives us to greed. We build bigger sheds, we rent storage units, we get deep freezers, you name it. You can see greed with relation to power too. Everyone wants a seat at some mythical table. Why? So they can push through the agenda. What agenda? The agenda of whomever wants a seat at the table. It doesn't really matter.
The root of all this is a lack of trust and contentment.
Many of us Christians don't believe that God actually cares about us or that God will take care of us. We believe that we have to get ours. One of the places that I see this most glaringly is in the political realm in regards to power. Christians to the left and the right believe that the ends (whatever ends they believe are politically important) justify the means. For the sake of power and control they will sacrifice their conscience and the name of Christ at the altar of the elephant or the donkey. In doing so, they show they do not believe the gospel has any power to change individual lives, let along cultures or societies. Sure there may be a pious statement thrown about, but when actions are observed it is clear that there is faith in the donkey or the elephant and not so much in Christ. (To be clear, I'm not saying that Christians should withdraw from political engagement. What I am saying is that when Christians embrace a means justifies the ends approach to political engagement they have moved from the narrow road.)
That's one easy way to see the way worry drives greed, the greed for power.
Christians say we believe that the gospel changes lives. We say we believe the Holy Spirit is at work in the world. We say we believe in a sovereign and good God. Yet, our actions display something else entirely.
I remember during a brief stint as a youth pastor I stood at a white board and asked the high school students to list all the problems of the world. Then we walked through them and discussed how the gospel played a significant, if not foundational, role in solving those issues. As I write this, it sounds trite. But, it is amazing what can happen when folks understand and comprehend the nature of reconciliation, forgiveness, grace, and truth.
Do we trust that God can do what God promises?
The other root for worry and greed is lack of contentment. Contentment is a learned skill. It's not a spiritual gift but a discipline. When we are discontent it drives us to envy which moves us toward worry and greed.
Our culture doesn't differentiate between needs and wants very well, neither does the Church.
Churches think they need bigger buildings, more people, better this, better that. Nope. We don't need those things.
What we need is the gospel.
We need to do the work of reconciliation and restoration.
We don't need buildings, bands, or bucks for those things.
We need a crucified and risen savior.
Are you learning to be content?
This weekend sit with some of this. Ask yourself some questions:
What do I need?
Are these really needs?
How have my needs been met?
Am I grateful?
What do I want?
Do I really want these things or are they simply the result of greed?
Join me in doing the work.